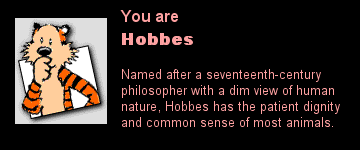 Which Cartoon Cat Are You? Quiz by gypsydance
Love-a-Lot Bear
You love to take care of others and people love being around you because you make them feel appreciated. You are very sweet and soft-spoken. You are also a romantic and consider yourself an excellent matchmaker, so you tend to be a bit nosy. But everyone still considers you the sweetest person they know.
You're

Simply!

You like the clothes that makes you be comfortable the whole

time. Very natural and fast, don't like a lot of things everywhere, you

feel very well with jeans and t-shirts!

your Own Fashion Style?
Student teaching begins - 2005-02-20
Three more days!! - 2005-02-07
Weekend recap - 2005-01-31
Oh the hate - 2005-01-26
Yay for staying home! - 2005-01-24